MODERN CALLIGRAPHY ENGRAVING ART IN DUBAI
The first thing I do upon receiving your custom essence or illustration request is to create a draft of the design and determine how to best integrate it with the product to be engraved. This step is important as it sets the tone for the remainder of the project, and make sure that the end product is well balanced based on its shape, colors, and any other existing decorations (e.g. labels). The calligraphy or illustration of your choice is then carefully engraved free-hand using a hand-held micros motor drill. This handy tool allows me to work freely within my own home studio as well as on-site, with no need for an outlet.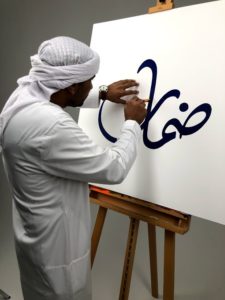 After the engraving is completed, the design can be filled with various metallic wax finishes. The 5 colors I have available include: Antique Gold, Grecian Gold, Autumn Gold, Spanish Copper and Silver Leaf. Metallic wax finishes are only ideal for display products, and not glassware that will be heavily used and washed.
Calligraphy Engraving Process In Dubai
Engraving is the practice of engraving a design onto a hard, usually flat surface by cutting grooves into it with a burin. The result may be a decorated object in itself, as when silver, gold, steel, or glass are engraved, or may provide an intaglio printing plate, of copper or another metal, for printing images on paper as prints or illustrations; these images are also called "engravings". Engraving is one of the ancient and most important techniques in printmaking. Wood engraving is a form of relief printing. This fine-art intaglio printmaking process, derived from goldsmith engraving techniques, dates from pioneering work by Northern Renaissance German printers during the first half of the 15th century. Engraving involves the incision of a design onto a metal surface (usually copper), by making grooves using a steel tool with a square or diamond-shaped end, called a burin. This produces a high quality line with a clean edge. Other tools – like mezzotint rockers, roulettes and burnishes – are employed by the printmaker to create additional textured effects.
Up until the mid-19th century, engraving (also called copper-plate engraving or line engraving) achieved widespread popularity as a method of replicating fine art images on paper, as well as illustrations for books and magazines. Since then it has been almost completely replaced by etching and other techniques.
Once the lines of the drawing have been cut out of the copper, the plate is inked. Then the surface is wiped clean, leaving only the incisions containing ink. The plate is then put into a printing-press, along with a sheet of paper. The paper picks up the impression of the ink from the grooves, thus completing the print.
Variations of Calligraphy Engraving: Mezzotint and Dry point
Mezzotint: In this variant of engraving, invented by the German Ludwig von Siegen (1609-1680), the metal plate is scored all over, creating a rough surface. The desired image is produced by scraping smooth the part of the surface which is to be left white. Mezzotint is noted for its range of tonal effects, not only because a scored or scoured surface holds more ink than one with a smaller number of simple lines – thus creating rich colors, but also because the technique can be fine-tuned using various tools to produce very fine gradations in tone. Mezzotint was widely employed by English artists and printmakers from the mid-eighteenth century onwards, to replicate portraits and landscapes in our Dubai art gallery.
Dry point: Invented by an unnamed 15th century German artist, dry point – unlike traditional etching which is executed with a V-shaped burin which produces a smooth hard-edged mark – is performed with a sharp point, which leaves softer and more blurred lines. Until the introduction of electro-plating (steel facing), which hardened the plate, dry point was only feasible in small runs because the soft blur was destroyed during printing. Famous practitioners of dry point include Albrecht Durer, Rembrandt, and the German Expressionist Max Beckmann.
CALLIGRAPHY LASER ENGRAVING IN CUTTING IN DUBAI:
Whether it's a one-off project or a large production run, Creative Roots is the name you can trust for high-quality laser cutting and engraving solutions in Dubai. We seek to help our customers bring their ideas to life and communicate with their target audience more effectively. Creative Roots renowned within the industry for the use of Genentech CO2 Laser, a high-power machinery developed using the most modern technology to produce quality work within tight deadlines with a high level of accuracy. Our team is composed of professionals having the technical knowledge and expertise to work with a broad range of materials ranging from metal and ceramic to fabrics and acrylic. We genuinely believe that good design is and always will be an effective promotional strategy. We place a high level of importance on customer service, and our client base has been built up through our unique level of care, communication, and excellent results.
It is a precision cutting technique that uses a high power laser machine to create complex method on a wide range of materials. The Genentech laser is used in Dubai engraving art to slices the complex into simpler materials such as decorative screens, 3D singles, LED letters. We can design and engrave according to their needs. We use thickness from 0.5mm to 100mm for perfect finishing. Highly-demanding in the modern art gallery in Dubai 2020.